DATE FOR YOUR DIARY
Our annual event in Scotland is booked for the 5th November, 08.45 doors open for drinks on arrival. conference start 09.30, fee includes coffee breaks, 2 course lunch all paperwork etc. with a 16.30 finish.
Our speakers this year are being finalised however, confirmed we have:
Peter Hearn, DVSA area manager, Northern,
Peter became Director of Operations (North) at the Driver and Vehicle Standards Agency (DVSA) in May 2017. He had been covering the role since April 2017 and had been Acting Director of Operations for all of DVSA since July 2016.
Peter previously held positions at the Vehicle and Operator Services Agency, including:
Scheme Management and External Relations Director Head of Planning and Policy in operational management Area Manager Vehicle Examiner Director of Operations (North), DVSA The director is responsible for providing our driving test and vehicle test services in the north-east, north-west, West Midlands, Scotland and Wales.
John Sheridan, DVSA Driver Training Policy Manager
Kev & Tracey from Confident Drivers (view introductory video here)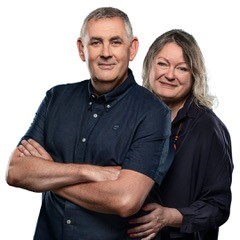 Kev & Tracey Field from Confident Drivers are leading industry experts helping anxious drivers transform their feelings about driving and get back on the road through driving confidence coaching, stress management techniques and online driving confidence courses.
Kev is a personal development coach, NLP practitioner, and a grade A ORDIT registered instructor. Tracey is a mindfulness teacher qualified in stress management techniques and recently completed her psychology degree with The Open University.  Together they have combined their skills and knowledge and applied them to driving anxiety, stress and nerves.
Kev and Tracey run training courses for ADIs who want to understand more about how to help their nervous students and are regular speakers at driver training industry events, as well as being the hosts of The Driving Confidence Podcast.
Stewart Lochrie, Managing Director, Bright Coaching (view introductory video here)
The noise and clamour around Standards Checks and trigger points is distracting our industry from more important issues. The opportunities presented by The GDE Matrix and other behavioural change interventions from academia are rarely mentioned and many of the newcomers to our industry may never have heard of it, or the term behavioural change.
Research indicates that the best way to encourage young drivers to take responsibility for the kind of drivers they want to be and to help them avoid serious accidents, is to use coaching techniques such as goal-setting, reflective practice, and work related to values and beliefs to encourage growth.
The gulf between the Standards Check marking sheet and the way it is interpreted by the DVSA, and the kind of ADI engaged in the kind of work described above is huge.
Each speaker will have an open Q&A session, Peter Harvey MBE will do his usual update of our industry and a few others still to confirm, we will also have some trade stands offering discounts to those who attend.
As always, we will have stands from various companies offering their services at discounted rates to MSA GB members tea/coffee/biscuits when you arrive and at breaks, lunch as part of your ticket also and the chance to meet up with many instructors from all over Scotland some of which you may not have seen since last year's event. The doors open at 08.45am with conference starting at 09.30am, in the same venue as last year.
The Castlecary House Hotel is located just of the M80, on Castlecary Road. G68 0HD.
Tickets
Held at the same price as last year
£50 for MSA GB members
£55 for non-members
EARLY BIRD BONUS
If you book your place on or before the 30th June 2023, you will receive the early bird discount of £5 discount.
Purchase tickets here or by calling 01787 221 020