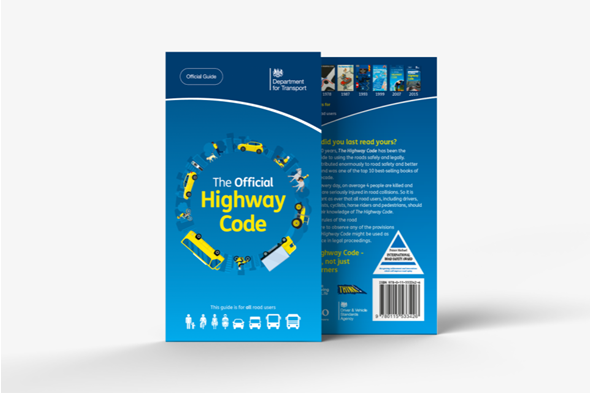 Fake copies of The Highway Code are being sold
The Driver and Vehicle Standards Agency (DVSA) is currently investigating and taking action against unscrupulous sellers of a fake version of The Highway Code.
The errors in the fake versions could potentially put road users at risk of breaking the law or, even worse, having an accident. As well as this, it could cause failure in both theory and practical tests.
The selling of counterfeit books containing unlicensed intellectual property breaks copyright laws.
How to spot a fake
The easiest way to decide whether you have an official copy of The Highway Code or a fake version, is to look for these key differences:
Compare the bar code numbers; the official copy has an ISBN number above its barcode.
On the fake version, the logos on the front cover of the book are slightly pixelated.
The official version of The Highway Code has a matte cover, the fake version has a glossy cover.
If your pupils think they have been sold a counterfeit copy, they should contact their local trading standards office or contact DVSA at crowncopyright@dvsa.gov.uk.
Let your pupils know
Please let your pupils know that fake versions are being sold online and make them aware of how to spot the differences. To make sure your pupils get an official copy of The Highway Code they can buy one from our official publisher at Safe Driving for Life They can also view an up-to-date version of The Highway Code for free on GOV.UK