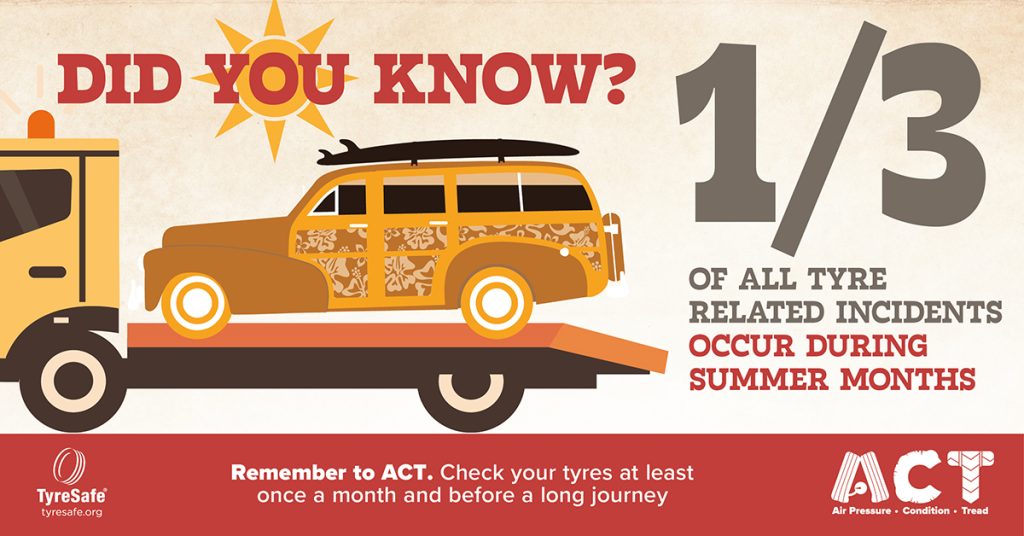 Summer could spell a stark rise in tyre-related incidents, as more Brits choose to staycation
MSA GB is issuing a strong and stark warning to Britain's motorists taking to the roads this summer, to help prevent tyre-related interruptions to holidays, day trips and travel plans.
There are more reported tyre-related incidents in summer than at any other time of the year, and longer journeys with extra loads in vehicles with defective tyres can result in catastrophic failures.
This year could prove the busiest summer on the UK roads yet, with 72% of Brits still preferring staycations in 2023, according to research by MoneyTransfers.com.* Despite global travel restrictions lifting, the cost-of-living crisis is forcing more UK holiday makers to stay domestic with their travel plans, and therefore likely to use their vehicle to get to their chosen destination.
Despite the more predictable warmer weather and better light, June July and August are the months when a tyre related incident is most likely to occur. MSA GB is urging motorists to use the simple acronym ACT to stay tyre safe this summer.
Air pressure – The air pressure of each tyre should also be checked using an accurate gauge. Typically, car manufacturers recommend two different tyre pressures, one for light loads and another for when the vehicle is fully. It's essential that drivers adjust the pressures to accommodate the load they are carrying. These settings can be found in the vehicle handbook, on reputable internet tyre pressure charts such as the one at tyresafe.org, and often in the vehicle's fuel filler cap or door sill.
Condition – with a visual check, looking at the overall condition of each tyre to see if anything might have penetrated the tread, such as nails or other objects. If any of these objects, cracks or bulges are present, the driver should refer immediately seek professional advice.
Tread – drivers should check the tread of their tyres to ensure they are above the UK the legal tread depth minimum of 1.6mm. Ideally an accurate tread depth gauge should be used but if this is not available, a 20p coin can be used as a guide. Insert the 20p into the main sections of the tyre and at various points around the circumference – should you see the outer rim at any point, you need to have the tread depth checked as it may be illegal.
Mike Yeomans, MSA GB Chair said: "This summer could see the busiest roads yet, with current austerity causing more Brits to enjoy their well-earned summer break in the UK rather than abroad this year.
Which means more cars on the road that are likely to be on longer journeys with heavier than normal loads – more passengers and more luggage. MSA GB's summer campaign takes a lighthearted approach that conveys a very serious message. We want people to have an incredible summer holiday, being spared the distress and interruption a tyre related incident could cause.
"It only takes a few minutes to perform simple tyre checks that could save you hassle and at worse, a catastrophe. What's more, driving on correctly inflated tyres on longer journeys could save money on fuel bills and decrease the rate of wear on your tyres."