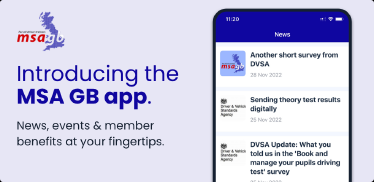 We in MSA GB realise information can be found from many sources now and want to stay at the forefront in supplying members with up to date, accurate information as it becomes available, and we are investing in other ways to make sure that can happen.

We are delighted to inform you of our new MSA GB app, we have invested in the technology to help us get the most up to date, accurate information to you as it becomes available to us.
The aim of the app is to keep you updated with the latest news, any upcoming events across the country and list the member benefits that are available to you without having to visit our website to check for updates. We will continue to expand its use as we move forward in the future.

The app is easy to download from either the App Store or Google Play, all you need to do is type in: MSA GB on either platform to download.

Once you have downloaded, simply go to the membership tab at the bottom of your screen and use the email address you use on the MSA GB website and the same password to log in, from there on in all you need to do is open the app, to refresh just pull the page down as in most other apps.

If you are not a member of MSA GB, some of the content will be limited and you will be offered an opportunity to join the association, however you would rather not, you will still be able to view some information.

I hope you enjoy the app and find it helpful.

Peter
National Chairman